Dyson's G-Force technology to cool tube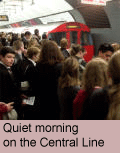 British inventor James Dyson has been working closely with Transport for London (TfL) on a revolutionary plan to cool the London Underground. The European heatwave has resulted in temperatures on the failing underground train system to exceed the legal limits for transporting cattle. The desperate Mayor of London, Ken Livingstone, had offered a £100,000 cash prize to anyone who could design a system that could be used to successfully claw down the temperature, however, critics have claimed that the chosen technology is certain to lead to fatalities.
Dyson shot to fame in the 1980's through inventing the rollerball wheelbarrow, and later the Dyson vacuum cleaner. This latest scheme sees the inventor leading a team of the Mayor's consultant engineers in a revolutionary plan to adapt Column Vortex Technology, first unveiled in the Dyson vacuum cleaner, to an air conditioning system which will cool the London Underground.
In the quest for a successful solution it was recently revealed that a myriad of concepts had been modelled using different approaches to enhance traditional air conditioning systems. However, it quickly became apparent that the force of airflow developed through conventional methods was grossly inadequate to sufficiently flood cold air across the network in its entirety.

The "Dyson" solution, adopts a much more holistic approach. It will, in essence, manufacture vortex winds, which will force cool air from west to east across the capitals tube stations. All tube stations will simply be assigned "blow" or "suck" status depending on their strategic location. Transposing the science into practice takes on an entirely new visualisation. For example, on the Central Line, vortices of chilled air will be blasted down the escalator shafts of West Ruslip and Ealing Broadway, spiralling at speeds of up to 115 mph eastwards across the city to be spat out by towering "suck" turbines at Stratford and Epping.
In what is set to become air conditioning, implemented on the largest scale ever, the system has been coined 'The Tuba'. Mayor Livingstone has set in motion a discussion group to bottom out what effects 'The Tuba' will have on everyday Tube users.

"Clearly serious consequences could reasonably be anticipated from initiating such strong winds in such confined space," said the former GP turned Major, unveiling the idea at yesterday's press conference. "It's a bitter pill to swallow, however, the benefits are thought to far outweigh the drawbacks".
DPP managed to track down a disgruntled air-flow modeller who was kicked off the project for expressing his reservations regarding adapting the fledgling G-Force technology. Suffering from acute bronchitis due to the stuffy working conditions, we met with our source at his New Cross flat. "The man's bonkers, you don't need a PhD to realise that the turbines used to generate the force of the magnitude required, will be capable of ingesting people. I'm not saying the plan won't achieve the desired cooling effect, but distinct fear of death is not the answer to getting commuters back on the buses. Put it this way, if this lunacy goes ahead, I'll be commuting by bike".
It is believed that the manufactured winds would be so strong that they would impact on travel times, with commuters travelling westwards taking longer than those travelling in an easterly direction, being effectively sucked towards their destination. Children would have to be secured to their parents and small dogs such as chihuahuas, would be banned. Clearly, busking would be forbidden, as tossed coins could take on far more lethal trajectories.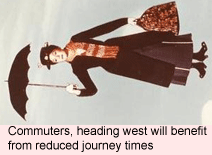 The news of 'The Tuba' cooling system effectively sucking commuters towards The City and Canary Wharf areas was welcomed by one North Acton based City stockbroker we stopped for comment. "Any system which not only cools the tube, but gets me to work quicker would greatly benefit my quality of life – that Ken's a bloody marvel". The Piccadilly Line south of Hounslow is to be omitted from the scheme as it is thought it might create dangerous downdrafts at Heathrow airport. Work is scheduled to go ahead from the end of September 2003.