Schwarzenegger, renaissance man or true barbarian?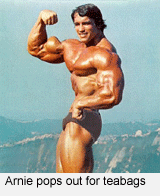 The delighted, deluded and plain deranged Jay Leno audience whooped and cheered as Arnold Schwarzenegger announced his intention to run for the California governorship. The body-building, acting, philanthropic, womanising part-time barbarian and son of a Nazi, will seek US political office for 'the children'.
It's of course unfair to bring up Arnie's Nazi past, his father Gustav Schwarzenegger was an Austrian policeman during the WWII and would have had little choice but to be a good fascist. Arnie, however, was born 2 years after Nazi Germany was routed and still grew up with disturbingly far-right views.
Anyone who has actually had the stomach and the stamina to sit through Schwarzenegger's breakthrough 1977 documentary, Pumping Iron, will know that this man is superhuman in his determination and ambition but also utterly remorseless in his view of the world. Schwarzenegger is driven to succeed to the detriment of those people around him. During the filming he is reported to have praised Hitler and although those alledged scenes may have hit the cutting room floor, what does appear in the documentary is a study of a man whose personal politics will not sit well in democratic society.
His womanising is tabloid-legend, his unsavory views on women less well reported. His father's Nazi past, again well reported, Arnie's continued friendship and support of Kurt Waldheim a little to obscure to matter?
Kurt Waldheim, former secretary general of the UN ran for the Austrian presidency in March 1986. Everything was going well, he was ahead in the polls, he had a glittering UN career behind him and Hollywood endorsement in the substantial shape of Arnie. However during the campaign it broke that Waldheim had played a leading role in Nazi atrocities during WWII and was wanted as a war criminal. Waldheim had long maintained that he served in the German army only briefly before being injured and retired. In fact Waldheim served as an intelligence officer in the German Army when it committed mass murders in the Kozara region of Bosnia and received a commendation for his role in the atrocities.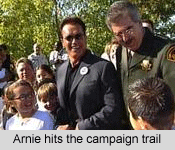 'It is my duty to jump into the race and to bring to the people in California (sic),' Schwarzenegger said as he broke the news in an interview with fellow Republican and long time friend Leno. 'People are sick and tired of politicians, therefore it's important for me to run and to win, to go to Sacramento, to clean house.'

Schwarzenegger's odds of seizing power look good. He has already used his recent publicity tour for T3 to air his gentler political views and his internationally-renowned grasp of Spanish looks set to net him a significant proportion of the Californian demographic straight off the bat.
It is worth noting that Schwarzenegger has publicly denounced Nazism, has invested in Holocaust charities and made visits to Israel. It could also be argued that Arnie's support for Waldheim shows his strength of character and his loyalty. You could even argue that the Schwarzenegger who appeared in Pumping It was full of youthful indiscretion and drive. On the other hand, maybe you should be afraid, very afraid.
The race for the Governor's seat in California does not look set to be typical by any means. Over 150 candidates have put their name forward, we've tried to provide you with a quick run down of the more interesting ones:


Arnold Schwarzenegger – Hollywood superstar, ex-Mr Universe, Husband to a Kennedy. Will stand as a Republican riding a Gary Cooper "clean up this town" pony.

Odds: 5/6

Gary Coleman – 2ft 3inch child star of the sitcom "Diff'rent Strokes" was set to taunt Gray Davis out of office with his popular 80's catchphrase "Whatchu talkin' 'bout." However, Coleman has already conceded that the Terminator's catchphrase is much better and he will actually be casting his vote for Arnie.

Odds: 200/1

Mr Buckles – Buckles has managed to rise above much of the political infighting that has marred Californian politics of late, largely due to the fact he is a chimpanzee. Not favoured to win but expected to give Arnie a tough run during candidate debates.

Odds: 50/1

Larry Flynt – Pornographer, cripple, and Casino owner, Flynt is determined to have a good time, all of the time.

Odds: 20/1

Paul "Chip" Mailander – retired failed golf pro without any discernable policies.

Odds: 20/1

Mary Carey – Adult movie star Carey, is standing for free love and available for three-ways. Innovations include a plan to tax breast implants, a scheme guaranteed to slash the Californian deficit and a "porn for pistols" campaign to get firearms off the streets.

Odds: 5/1